Southeast Florida Marina and Boatyard Study Tour
Octobe 28-29, 2014; Fort Lauderdale, FL
IMI is please to announce Brad St. Coeur, CMM as host the 8th Annual Southeast Florida Marina and Boatyard Study Tour!
A former boat captain, St. Coeur has over 30 years' experience in the boating industry and was instrumental in acquiring both Clean Marina/Boatyard designations for multiple marina facilities in South Florida. He also previously served as Chair of the Florida Clean Marina Partnership, which is an organization of both industry and governmental agencies committed to providing clean facilities to the boating public and maintaining and protecting Florida's waterways from pollution.
The Study Tour is a two-day mobile training course that provides participants with an in-depth look at the operations of different types of marinas and boatyards in South Florida. At the end of each day, attendees participate in a facilitated roundtable discussion and SWOT (strengths, weaknesses, opportunities, and threats) analysis of each marina before heading to a networking dinner. For more information or to register, visit marinaassociation.org/training/conferences-meetings/study-tour.
To learn more about the Study Tour or the Fall Conference, please visit marinaassociation.org/training/conferences-meetings.
Contact IMI at 401-247-0314 with any questions.

SAFE Boats International awarded contract for additional US Navy Mk VI Patrol Boats

SAFE Boats International awarded contract for additional US Navy Mk VI Patrol Boats


Tacoma, WA - SAFE Boats International (SBI) was recently awarded a contract to provide the United States Navy four (4) additional Mk VI Patrol Boats (Mk VI PB); with options for an additional two (2) boats. The Mk VI PB is the Navy's next generation Patrol Boat and will become a part of the Navy Expeditionary Combat Command's (NECC) fleet of combatant craft. The Mk VI PBs mission, per the contract, is to provide operational commanders a capability to patrol shallow littoral areas beyond sheltered harbors and bays, and into less sheltered open water out to the Departure Sea Area (DSA) for the purpose of force protection of friendly and coalition forces and critical infrastructure.

SAFE Boats designed the 85-foot Mk VI PB for optimal performance, fuel economy, and firepower. Systems are designed to reduce Total Ownership Cost (TOC), minimize manpower and improve reliability and maintainability. Powered by twin diesel engines and water jets, the Mk VI PB is capable of speeds in excess 30 knots at full load. She has a range in excess of 600 nautical miles. Berthing accommodations, galley and head/shower facilities allow for extended missions. Additionally, the boat is fitted with ballistic protection and can be armed with a variety of crew served and remotely operated weapons systems.

"SAFE Boats is proud to have been awarded this new contract for additional Mk VI Patrol Boats for the US Navy. The Mk VI Patrol Boat program represents a new level of size and sophistication for the SAFE Boats product portfolio; through the execution of this program, we have increased our boat design and manufacturing capabilities and capacity. We look forward to the future of the Mk VI Patrol Boat program and other similar large craft programs" said Dennis Morris, President and CEO, SAFE Boats International.

SBI was awarded the initial contract for six (6) Mk VI Patrol Boats in May 2012 and will be contractually delivering the first boat to the Navy later this Fiscal Year. SBI is producing the Mk VI Patrol Boats in its Large Craft Production Facility (LCPF) located in the Port of Tacoma, Washington. Originally developed to build ships for the US Navy during WWII, the size and configuration of the facility allows several Mk VI PB size craft to be under construction simultaneously. Located on the water, the LCPF provides SBI an ideal location to produce and support large craft.

SAFE Boats International offers a wide range of craft from 18- 85 feet configurable to a wide variety of pleasure, commercial, law enforcement and military requirements together with the training and service to support them. For more information about the entire SAFE Boats product line please visit: www.safeboats.com
Cobalt Boats Introduces New R Models




Cobalt Boats is excited to introduce the R3 and R7, sisterships of the widely popular R5.



Production is underway for the new 2014 models and already, these boats have proven to be industry trend-setters. Inspired by the Cobalt R5, which made big waves this past model year, the new R3 and R7 have been sculpted with features deemed only by Cobalt.

The R3 features a sleek and low profile providing an even smoother ride for those aboard. The transom, platform design and aft sunpad are all synonymous with Cobalt R5. Transformable seats and the sunpad backrest make for easy convertibility, providing ample room for guests and their gear. The cockpit has an interior beam measurement that is over a foot wider than any competitive runabout. This interior expansion, free space reclamation, is exactly what Cobalt's new design creates. The wrap-around yacht style seating is the widest of the mid-sized runabout category. Equipped with the latest

technology, the R3 is highlighted with multi-function displays and a Rockford Fosgate stereo with Bluetooth.

Also new to this year's lineup is the Cobalt R7. An even larger version of the R5, this boat model represents the very best in the ever-important 23'-27' bowrider segment. Maximized cockpit breadth, seating versatility and highly appointed upholstery collaborate for a luxurious experience, all while maintaining great performance on the water. The bow area and cockpit are spacious and expansive. The elongated port side seating gives the R7 a yacht-esque atmosphere and plenty of room for storage. The opulent luxury combined with incredible value make the R7 your solution for big-water boating.

To learn more about the Cobalt lineup as well as these new models, please contact a dealer near you.

Cobalt Boats, LLC is a privately owned, world leading manufacturer of luxury family day boats, and is headquartered in Neodesha, KS. Thanks to our World Class Dealer Network, Cobalt has a record of an industry loading customer satisfaction.

Company website: www.cobaltboats.com




Helicat 22 at Miami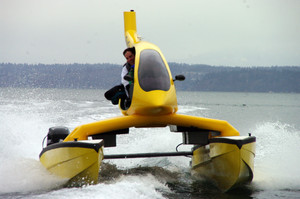 The HeliCat 22 is a cool-looking catamaran designed and built for rough water. According to its designer, the Helicat 22 is great for 'stable and safe, fun, fast, economical and practical water travel, island transport, resort adventure tours (with 4 side facing jump seats with seat belts) or day charter/rental'.

They say she can be wrapped with a company logo, photos and contact info for eye-catching and fun advertising on and off the water. The new design makes this cool-looking, lightweight, stable and agile catamaran safe in rough seas, and a lot of fun with great fuel economy and near zero maintenance. Side vinyl doors keep you totally dry. At speeds from 20-45, she burns only 4-13 gph, getting 5 to 3.5 miles per gallon, which is unusually good for a boat that can handle rough water. Combined with her stability, it makes commuting on the water practical and economical.

The Helicat can be ordered with 60-90 hp motors of your choice or sold alone for you to select your own motors. A custom Aluminum Trailer with LED lights and disc brakes is available and usually included. She can be towed by a mid-sized car or small SUV, because she will be under 3,400 pounds on the trailer full of fuel and gear, ready to go anywhere.

More at watersportnews.com and at www.helicat.net

For more information, go to: f1h2o.com
National Marine Manufacturers Association Merges Strictly Sail Chicago and Chicago Boat, Sports & RV
to Create Ultimate Outdoors Destination in Chicago
New, Expanded Progressive Insurance Chicago Boat, RV & Strictly Sail Show
Taking Place January 14-18, 2015


CHICAGO (September 2, 2014) – The National Marine Manufacturers Association (NMMA) announced today it is combining the Chicago Boat, Sports & RV Show with Strictly Sail Chicago to create Chicagoland's premier boating and outdoors event – the Progressive Insurance Chicago Boat, RV & Strictly Sail Show, taking place January 14-18, 2015. The combination of two of the Midwest's largest shows is a result of market demand for a one-stop shop for all things boating and outdoors and significant support from the boating, RV and sailing industries.
"Joining Chicagoland's two winter boat shows creates a world of opportunity for all exhibitors, driving customers to one premier destination for boating, sailing and the outdoors," noted Ben Wold, Executive Vice President, NMMA. "With a combined attendee base exceeding 50,000 people from throughout the Midwest, the new Progressive Insurance Chicago Boat, RV & Strictly Sail Show will deliver more buyers, more opportunities to reach new audiences, and more value for everyone involved."
The Progressive Insurance Chicago Boat, RV & Strictly Sail Show will maintain its mid-January dates and as a result of the merger, is expected to grow 30% in its first year in the new South Hall location at McCormick Place (previously held in the North Hall). The new South Hall location features 840,000 sq. ft. of exhibit space all on one level and can accommodate larger power and sailboats that exhibitors have been eager to display and now have an opportunity to do so.
"We're excited NMMA has decided to combine Chicago's two winter boat shows – a move we believe will benefit both the power and sailing industries. And the shift to McCormick Place's South Hall is a great opportunity for exhibitors to create an even better selling environment and experience for attendees, which will ultimately produce a bigger, more successful show," said Dennis Radcliff, Regional Sales Manager, Monterey Boats.
"The new location of the show is what the RV industry needed to reach new audiences and better cater to our clients. The show has been a longstanding tradition for boaters, RV'ers and outdoorsmen, and we're hopeful the new Progressive Boat, RV & Strictly Sail Show will ignite interest from new customers," echoed Tom Podlin, Sales Manager, Rick's RV.
To preserve the integrity and brand of Strictly Sail, the show will feature three distinct areas—powerboats, RVs, and "Strictly Sail Chicago." Sail-specific booths will be located within the sail section, while marine, travel, and outdoor gear will occupy a central location on the show floor. Plans also include enhanced attractions and a premier lineup of seminars covering all aspects of boating and the outdoors, including the extensive educational offerings sailors have come to expect from Strictly Sail Chicago.
"We applaud the NMMA for making this bold move. After discussions with our members and directors, Sail America supports the combining of these shows. We recognize the importance of preserving the legacy of Strictly Sail Chicago and its evolution within a multi-show venue. The new format will ultimately expose sailing to a greater audience. We look forward to our ongoing relationship with NMMA finding ways to promote the health and growth of sailing," said Stanton Murray, President, Sail America.
Chicago is a hub for the recreational boating industry, providing easy access to waterways and inland lakes throughout the Midwest. Chicagoland is home to more than 150,000 boats, and 5,000 slips in nine marinas border the city's lakefront.
For more information, visit www.ChicagoBoatShow.com.
United States Power Squadrons and BoatUS Foundation
Help Boaters Understand Weather Basics Through Online Course
"Cloudy With a Chance of Meatballs": Do You Know Weather?
Checking the weather is the first thing boaters do before heading out, and it can either make, or break, the day.
Download hi-res photo.
ANNAPOLIS, Md. – For boaters, sailors or anglers, knowing the forecast and understanding the weather can mean the difference between smooth, sunny sailing or slogging through uncomfortably rough seas.
Weather for Boaters
, a new online course from the United States Power Squadrons (USPS) and the BoatUS Foundation aims to teach boaters the basics of weather and forecasting so they may recognize and prepare for storms coming their way, interpret cloud formations and wind shifts, learn when to prepare for lightning and thunderstorms, and more.
"Weather for Boaters follows the traditions of USPS to prepare boaters to make informed decisions on the water." said Robert Baldridge, Chief Commander, US Power Squadrons. The course is an easy-to-follow boater's guide to forecasting, winds and storms that will help any boat owner decide when it's time to go out, head back in, or seek cover. Included is an understanding of weather elements such as air masses, fronts and winds, storms, squalls and fog. It also helps boaters know the early signs of changing weather and how to use a barometer and weather map. It may also help race committees reduce risk.
As a special offer,
Weather for Boaters
is available until September 30 for just $29.95. Additional USPS/BoatUS Foundation online learning courses such as
Partner in Command,
which is great for first mates, and
Boating on Rivers, Locks and Lakes
are also available until September 30 for the same the special pricing of $29.95 per course. To receive the discounted special pricing on these courses, enter the promotional code "weather" when signing up at
usps.org/edonline
.
The United States Power Squadrons is a non-profit, educational organization dedicated to making boating safer and more enjoyable through teaching boaters courses and seminars covering dozens of topics. To date, over four million boaters have taken a USPS course or seminar. The partnership with the BoatUS Foundation aims to increase the accessibility to boating education courses by tapping into the Foundation's expertise at presenting engaging and effective course materials for online study at home. United States Power Squadrons have over 30 advanced courses and seminars taught by local squadrons that will be made available online in the next two to three years.



Sailors Flock to Annapolis in October
October 10-13, 2014
Annapolis, MD - Every October sailors from around the globe gather on miles of docks in the historic seaport of Annapolis, Maryland for the United States Sailboat Show. The upcoming 45th internationally acclaimed sailboat show will open October 9th and run through October 13th and is the largest and oldest in-water sailboat show.
Premiering Boats - The most exciting new sailboats from major manufacturers including many new designs and models make their debut at the United States Sailboat Show.
Exciting High Performance, Racing Section - A new section of the show this year will feature a sexy high performance racing section.
Sailboat Manufacturers - This is the only show in which virtually every major sailboat manufacturer is represented!
Largest Collection of Multihulls and Catamarans Anywhere in the World - All sizes of catamarans. Miles of docks are constructed to display everything from brand new cruising sailboats to kayaks, paddleboards, and canoes.
On-Land Exhibitors - The sailboat show has the latest in navigational equipment and a wide selection of marine equipment, high-tech electronics, boating accessories, rigging, clothing & gear. There are related services such as sailing lessons, rentals, insurance firms, and lending institutions.
NEW THIS YEAR! Introducing Brokerage Cove
For the First Time in 45 Years the Annapolis Sailboat Show Will Display Previously Owned Sailboats in St. Mary's Cove.
The granddaddy of all sailboat shows, the United States Sailboat Show is expanding its already impressive selection of new and premiering sailboats to include Brokerage Cove. This show within a show will be overflowing with used boats in a floating marina presented by regional boat brokers and available for immediate sale. Admission provides entry into both the United States Sailboat Show and Brokerage Cove.
Preview Day: October 9, 2014 - This is an extra special day for the serious sailor who will take advantage of a day ideal for talking with exhibitors and touring sailboats.
Premier Launch Party - Boat show goers will celebrate opening night and kickoff the United States Sailboat Show with a star-studded cast from the sailing industry during an evening filled with island music, delicious food, cocktails, and fun.
Special guest speaker Ken Read, considered one of the world's most accomplished and celebrated sailors.

Presentation of the first annual Sailing Industry Distinguished Service Award, co-sponsored by Sail America. Separate ticket required.
Vacation Basin: Plan the Dream - Dedicated to chartering, travel, vacations and charter boat ownership in the Chesapeake Bay and exotic island locations.
Take The Wheel: Interactive Workshop & Boat Demo - Perfect for the sailor searching for a special sailboat--an innovative workshop that includes an afternoon of sailing to evaluate a wide range of boat styles.
Free Seminars on Sailing - Daily programs presented by the Chesapeake Bay Magazine, Annapolis School of Seamanship and Cruising World Magazine.
Grand Prize Drawing - One week chartered vacation: 7 day, 6 night s charter in the British Virgin Islands donated by The Moorings.

Hendrick's Gin Tasting Barge
Nobilo Wines Tasting Tent
Why Attend a Boat Show? Sailors have the unique opportunity to board and inspect most new models on the market, make side-by-side comparisons, and talk to industry representatives about all aspects of buying and owning a boat.
Show Information
October 9 - VIP Preview Day
10:00am - 6:00pm
October 10 - 12
10:00am - 6:30pm
October 13, 2014
10:00am - 5:00pm
VIP Preview Day $35
VIP Preview plus additional day - $48
General Admission - $18
Children $5 (6 and under free)
Two-Day General Admission Ticket - $31
PARKING in downtown Annapolis is limited. The Navy-Marine Corps Memorial Stadium is conveniently located and free buses will shuttle attendees from the stadium to the show site at City Dock. Stadium parking fee: $10. Buses run continuously from 9:00 a.m. until one hour after the show closes each day. Parking is also available at the Eastport Elementary School.
This year, as in many years through the show's history, a Navy football game will occupy the stadium parking on Saturday, October 11, 2014. As always, VMS signs will direct show attendees to conveniently located parking sites on Riva Road. Free bus service will continue between those locations and the show gates.
Annapolis Boat Shows, a premier event management company, has produced grand in-water boat shows since 1970. Today, more than 130,000 attendees from around the world come to the Chesapeake Bay region to experience these nautical extravaganzas.
App for on-demand boating services


@BoatyardUSA is launching in Lauderdale- 1st app for on-demand boating services! Boaters can sign up at

http://

boatyard.com

#muscleboats