37th Annual St. Petersburg Power & Sailboat Show
December 4-7, 2014
The 37th Annual St. Petersburg Power & Sailboat Show, the largest boat show on the Gulf Coast, is set to sail into the Duke Energy Center for the Arts Mahaffey Theater Yacht Basin and Albert Whitted Park in St. Petersburg, Fla., from Thursday, Dec. 4 through Sunday, Dec. 7, 2014.

The show will feature an impressive selection of power boats and sailboats in water and on land, including a 40,000-square-foot clearspan tent housing all types of marine gear. Show-goers will find hundreds of power boats and sailboats including family cruisers, runabouts, fishing boats, magnificent sailing yachts, personal watercraft and much more.




In addition to the large selection of exhibits at this year's show, there will be an array of special events and fun and educational activities, including MARINE SEMINARS and the youth fishing clinics presented by the non-profit Hook The Future. Military personnel get free admission with an ID, and Kids 15 and under are Free! NO PETS ALLOWED

BOAT SHOW SCHEDULE
December 4-7, 2014
Thur. Dec 4, 10am - 6pm
Fri. Dec 5, 10am - 6pm
Sat. Dec 6, 10am - 7pm
Sun. Dec 7, 10am - 5pm

SHOW ADMISSION
SPECIAL $2 Off Tickets when purchased online
Tickets: $14 at the gate and $12 Online
"Kids Experience" Free admission for all children 15 and under
Tickets (cash only) are available from the Box Office.

IMPORTANT: The only pets we can allow are guide dogs or other licensed, working dogs.


SHOW LOCATION
Mahaffey Theater Yacht Basin
400 First Street South
St. Petersburg, FL 33701 (Google Map)

Below is a list of some of the most popular boat manufacturers and boat categories that are exhibited at the Fort Lauderdale International Boat Show, the St Petersburg Power and Sailboat Show, the Yacht and Brokerage Show in Miami Beach and the Palm Beach International Boat show.
BOAT MAKES / BRANDS
Blackfin Lipari
Catalina Symbol


BOAT CATEGORIES
Bluewater-Fishing Inboard
Catamaran Motor Yacht
Convertible Pilothouse
Cruiser Sailboat
Day Cruiser Trawler
Flybridge Cruiser

- See more at: http://www.showmanagement.com/st_petersburg-boat-show/event/#sthash.e71uTPg6.dpuf


Mechanical Breakdown Coverage for Drive Units
BoatUS Yacht Policy
BoatUS' new Mechanical Breakdown coverage kicks in when a drive unit fails.
ALEXANDRIA, Va., October 8, 2014 – Many boat insurance policies will cover accidental damage to an outboard or stern drive unit, often as the result of hitting something. But what happens when the unit simply wears out or fails due to some bad luck? BoatUS now offers
Mechanical Breakdown
coverage for drive units that can be added to any BoatUS Yacht Policy (agreed value) for boats less than 10 years old for as little as $23 a year. The BoatUS insurance policy endorsement, which covers wear and tear, is "triggered" when the prop no longer turns due to a mechanical failure.
"There aren't a lot of boat insurers that offer this coverage, and when they do, it's offered at a fixed price," said BoatUS Vice President of Underwriting Mike Pellerin. "We price ours on a sliding scale that adjusts as the risk changes, meaning you're likely to pay less over time with BoatUS. There are also no restrictions on using a repair facility of your choice, there are no depreciation adjustments, and we cover 'wear and tear', such as when gears are worn away after repeated hard shifting."
Some of the items covered with the new Mechanical Breakdown coverage endorsement include an outboard's lower unit case housing, both prop and vertical drive shafts, forward, reverse and pinion gears, sliding clutch and cross pin, bearings and carrier, shift cams and shafts, races, and propellers. For stern drives, also known as inboard/outboards, upper unit covered items include the vertical drive shaft, housing and coupler, gears, bearings, cone clutch, shift fork, cam and follower, shaft assembly, u-joints and yolks. Lower stern drive unit coverage includes the gear case housing, both prop and vertical drive shafts, forward, reverse and pinion gears, sliding clutch, bearings and carrier, races, shift shaft, cam and follower and propeller. A full list of covered parts along with policy exclusions and limitations can be found at
BoatUS.com/insurance/mbcoverage
. Mechanical breakdown coverage does not apply to any engine internal components.
There is a $250 deductible for each unit, and manufacturer required maintenance must be performed at the required service intervals. Mechanical Breakdown coverage is available in most states and it must be purchased before a boat reaches 10 years from the date of manufacture.
Mechanical Breakdown Coverage is just the latest innovative boat insurance offering from the nation's oldest and largest recreational boat owners group. Over 45 years ago BoatUS was the first to offer recreational boat insurance policies issued in consumer-friendly, plain English rather than the Old English of Lloyds of London. Today's unique damage and injury avoidance program offers insureds its own helpful magazine – Seaworthy, as well as a fishing tournament reimbursement program, a cruisers "up front" cruising ground extension option, and the only hurricane damage prevention program to help keep boats out of harm's way are all BoatUS innovations.
All BoatUS insurance policies offer 24-hour dispatched on road and on water towing services with the largest recreational boat fleet in the nation, full salvage assistance, diminishing deductibles and hurricane haul-out coverage. For more information on Mechanical Breakdown Coverage or any BoatUS specialized marine insurance program, call the BoatUS marine insurance specialists at 800-283-2883.
For Paddlers, It's High Season for Safety




Dressed warmly and ready for any foul weather, these paddlers are prepared for a safe day on the water.

ANNAPOLIS, Md., October 6, 2014 – It may be sunny outside with blue skies above, but waters are deceptively cold and unforgiving in the fall. For paddlers with just a few inches of freeboard to spare, getting wet this time of year can have serious consequences, so the BoatUS Foundation for Boating Safety and Clean Water has these seven tips for fall paddlecraft safety.
Know how to re-board: All paddlecraft are different, so before you hit a lonely, remote stretch of river or bay, learn (in a safe place) how to get back in the boat quickly and efficiently as hypothermia is a threat that increases by the minute. Some paddlers add extra floatation inside the boat as it can help reboarding. (Tip: this can be accomplished simply by inflating a beach ball or purchasing aftermarket float bags). If you do ever fall out and can't get back in, stay with the kayak or canoe – it's a bigger target for rescuers to see.
Don't keep it a secret: Tell people where you're going by filing a float plan. It could be as simple as telling your spouse, in writing, where you are going and what time you plan to return. Writing it down makes it become habit. Be as specific as you can – this isn't the time to forget to mention you're heading to your hidden fishing hole two miles off the beaten channel.
Understand the basic rules of navigation:
You may not be out there with icebreakers just yet, but there may still be some recreational boating traffic and potential ship traffic. The simple challenge is the smallest boats are hardest to see. One simple tip to help visibility is to spray the tips of your paddles a bright color. Paddlers also can help themselves by understanding some basic
rules of navigation
.
Don't leave without a bailer: With low freeboard -- or the distance from the water to the gunwale -- paddlecraft are prone to getting water aboard. Once it starts, it's only a matter of time before your canoe or kayak becomes ever lower to oncoming waves. Keep water out and buoyancy up by having a bailer ready (Tip: tie one to each seat).
Thermal up or down: Neoprene gloves, a drysuit or wetsuit tops and hats are the ultimate protection in retaining body heat this time of year. However, have outdoor gear that offers versatility by being able to cool down or warm up when appropriate. Even if it may feel like summer, never leave shore in just a t-shirt and shorts. It only takes just a short change of weather or a dunking to drench you and the hypothermia clock starts ticking. A bright colored rain parka can also be seen at great distances.
Going remote? Go Personal Locator Beacon (PLB): Advances in GPS technology have brought down the cost of personal locator beacons, but if your budget is tight you can still rent a PLB from the BoatUS Foundation for $45 weekly, plus shipping. There are no additional subscriber fees and paddlers going to remote locations can order online at BoatUS.org/epirb or call 888-663-7472 (Tip: mention code "DISC10" for a 10% discount on the weekly PLB rental rate through December 1, 2014).
Keep it secure up top:
If you need to get your
favorite kayak or stand-up paddleboard to the lake on your car or truck's roof this fall

,
go to
BoatUS.com/addingpaddlecraft
for a quick read on the three basic types of roof rack systems and ways to safely tie down the load. Your kayak has no desire to meet the road or become a hazard for oncoming vehicles.
Snowbirds: Don't Forget Insurance, Towing and Safety "Provisions"

The BoatUS Foundation is offering 10% off all rental EPIRBs and Personal Locator Beacons until December 1.
ALEXANDRIA, Va., September 23, 2014 -- As their annual migration south approaches, sail and powerboat cruisers are stocking their boat's lockers, checking systems and taking inventory of spare parts. But that's not the only preparation these cruising "snowbirds" will need to do, says Boat Owners Association of The United States (BoatUS). They need to look at their boat's insurance policy, should strongly consider having an on water towing service, and rent an EPIRB for those taking an offshore route.
"Checking insurance paperwork, towing and communications gear may not be as exciting as stocking the boat, but they can make or break the trip south," said BoatUS spokesman Scott Croft.
Are you covered? Your boat's insurer will need to know when you are outside the "home waters" named on your policy, and waiting to the last minute can be a pain because they may require additional payment or delay a departure date by requiring a rigging or engine survey – so do this early. Croft says the BoatUS insurance program offers upfront "no-hassle" cruising limit extensions for popular cruising destinations that can be set up at the beginning of a boat's insurance policy. "This one-time approval gives the boater the coverage they need, eliminates surprises and takes away the hassle of having to ask each year or pay for an extension every time they depart home waters." Additionally, in Mexico, all boats are required under Mexican Law to have liability insurance issued through a Mexican insurance company. BoatUS can help find this coverage through a partnership with a Mexican insurer.
Ready for a grounding? The second most important task is having an annual on water towing plan for the Intracoastal Waterway's (ICW) notoriously shallow waters. "Every ICW chat board is filled with grounding stories," said Croft. "It's wise to have an on water towing plan before you go, as paying for ungrounding services out of pocket can be very expensive." BoatUS offers an annual Unlimited saltwater towing plan at BoatUS.com/towing for $149 that includes BoatUS membership.
Calling for help offshore?
Croft advises those making offshore passages to have an Emergency Position Indicating Radio Beacon (EPIRB) so their safety needs are met when cruising beyond VHF radio or cell phone range. If snowbirds don't want to make the investment, the BoatUS Foundation offers $65 weekly EPIRB rentals for the boat and Personal Locator Beacons (PLBs) for the crew for $45 weekly, plus shipping. Boaters can order online at
BoatUS.org/epirb
or call 888-663-7472 and mention code "DISC10" for a 10% discount on their weekly rental rate through December 1, 2014. All beacons are shipped via FedEx in watertight hard cases and come with a prepaid FedEx form to easily return when the passage is complete.
Do you know what lies ahead? New navigational issues are always a part of each new boating season on the ICW. To help boaters keep clear of troubles is the complimentary "East Coast Alert" bi-weekly email service by liveaboards and authors Tom and Mel Neale available by signing up at BoatUS.com/eastcoastalert. Some recent alert information has included warnings about shifted buoys and shoals, dredging activities, and changes to drawbridge operating hours.
Get a discount on fuel, overnight slips: While saving money isn't a provision, BoatUS members ($24 annually) pay less for gas – from $.05 to $.10 off each gallon of fuel at dozens of BoatUS Cooperating Marinas along the ICW. Many marinas also offer discounts of up to 25% off transient slip fees and up to 15% on boat and engine repairs. BoatUS.com/map can help snowbirds find BoatUS Cooperating Marinas along the way.
Southeast Florida Marina and Boatyard Study Tour
Octobe 28-29, 2014; Fort Lauderdale, FL
IMI is please to announce Brad St. Coeur, CMM as host the 8th Annual Southeast Florida Marina and Boatyard Study Tour!
A former boat captain, St. Coeur has over 30 years' experience in the boating industry and was instrumental in acquiring both Clean Marina/Boatyard designations for multiple marina facilities in South Florida. He also previously served as Chair of the Florida Clean Marina Partnership, which is an organization of both industry and governmental agencies committed to providing clean facilities to the boating public and maintaining and protecting Florida's waterways from pollution.
The Study Tour is a two-day mobile training course that provides participants with an in-depth look at the operations of different types of marinas and boatyards in South Florida. At the end of each day, attendees participate in a facilitated roundtable discussion and SWOT (strengths, weaknesses, opportunities, and threats) analysis of each marina before heading to a networking dinner. For more information or to register, visit marinaassociation.org/training/conferences-meetings/study-tour.
To learn more about the Study Tour or the Fall Conference, please visit marinaassociation.org/training/conferences-meetings.
Contact IMI at 401-247-0314 with any questions.

SAFE Boats International awarded contract for additional US Navy Mk VI Patrol Boats

SAFE Boats International awarded contract for additional US Navy Mk VI Patrol Boats


Tacoma, WA - SAFE Boats International (SBI) was recently awarded a contract to provide the United States Navy four (4) additional Mk VI Patrol Boats (Mk VI PB); with options for an additional two (2) boats. The Mk VI PB is the Navy's next generation Patrol Boat and will become a part of the Navy Expeditionary Combat Command's (NECC) fleet of combatant craft. The Mk VI PBs mission, per the contract, is to provide operational commanders a capability to patrol shallow littoral areas beyond sheltered harbors and bays, and into less sheltered open water out to the Departure Sea Area (DSA) for the purpose of force protection of friendly and coalition forces and critical infrastructure.

SAFE Boats designed the 85-foot Mk VI PB for optimal performance, fuel economy, and firepower. Systems are designed to reduce Total Ownership Cost (TOC), minimize manpower and improve reliability and maintainability. Powered by twin diesel engines and water jets, the Mk VI PB is capable of speeds in excess 30 knots at full load. She has a range in excess of 600 nautical miles. Berthing accommodations, galley and head/shower facilities allow for extended missions. Additionally, the boat is fitted with ballistic protection and can be armed with a variety of crew served and remotely operated weapons systems.

"SAFE Boats is proud to have been awarded this new contract for additional Mk VI Patrol Boats for the US Navy. The Mk VI Patrol Boat program represents a new level of size and sophistication for the SAFE Boats product portfolio; through the execution of this program, we have increased our boat design and manufacturing capabilities and capacity. We look forward to the future of the Mk VI Patrol Boat program and other similar large craft programs" said Dennis Morris, President and CEO, SAFE Boats International.

SBI was awarded the initial contract for six (6) Mk VI Patrol Boats in May 2012 and will be contractually delivering the first boat to the Navy later this Fiscal Year. SBI is producing the Mk VI Patrol Boats in its Large Craft Production Facility (LCPF) located in the Port of Tacoma, Washington. Originally developed to build ships for the US Navy during WWII, the size and configuration of the facility allows several Mk VI PB size craft to be under construction simultaneously. Located on the water, the LCPF provides SBI an ideal location to produce and support large craft.

SAFE Boats International offers a wide range of craft from 18- 85 feet configurable to a wide variety of pleasure, commercial, law enforcement and military requirements together with the training and service to support them. For more information about the entire SAFE Boats product line please visit: www.safeboats.com
Cobalt Boats Introduces New R Models




Cobalt Boats is excited to introduce the R3 and R7, sisterships of the widely popular R5.



Production is underway for the new 2014 models and already, these boats have proven to be industry trend-setters. Inspired by the Cobalt R5, which made big waves this past model year, the new R3 and R7 have been sculpted with features deemed only by Cobalt.

The R3 features a sleek and low profile providing an even smoother ride for those aboard. The transom, platform design and aft sunpad are all synonymous with Cobalt R5. Transformable seats and the sunpad backrest make for easy convertibility, providing ample room for guests and their gear. The cockpit has an interior beam measurement that is over a foot wider than any competitive runabout. This interior expansion, free space reclamation, is exactly what Cobalt's new design creates. The wrap-around yacht style seating is the widest of the mid-sized runabout category. Equipped with the latest

technology, the R3 is highlighted with multi-function displays and a Rockford Fosgate stereo with Bluetooth.

Also new to this year's lineup is the Cobalt R7. An even larger version of the R5, this boat model represents the very best in the ever-important 23'-27' bowrider segment. Maximized cockpit breadth, seating versatility and highly appointed upholstery collaborate for a luxurious experience, all while maintaining great performance on the water. The bow area and cockpit are spacious and expansive. The elongated port side seating gives the R7 a yacht-esque atmosphere and plenty of room for storage. The opulent luxury combined with incredible value make the R7 your solution for big-water boating.

To learn more about the Cobalt lineup as well as these new models, please contact a dealer near you.

Cobalt Boats, LLC is a privately owned, world leading manufacturer of luxury family day boats, and is headquartered in Neodesha, KS. Thanks to our World Class Dealer Network, Cobalt has a record of an industry loading customer satisfaction.

Company website: www.cobaltboats.com




Helicat 22 at Miami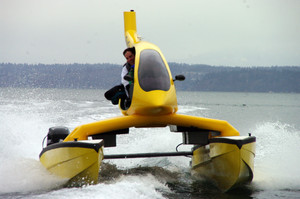 The HeliCat 22 is a cool-looking catamaran designed and built for rough water. According to its designer, the Helicat 22 is great for 'stable and safe, fun, fast, economical and practical water travel, island transport, resort adventure tours (with 4 side facing jump seats with seat belts) or day charter/rental'.

They say she can be wrapped with a company logo, photos and contact info for eye-catching and fun advertising on and off the water. The new design makes this cool-looking, lightweight, stable and agile catamaran safe in rough seas, and a lot of fun with great fuel economy and near zero maintenance. Side vinyl doors keep you totally dry. At speeds from 20-45, she burns only 4-13 gph, getting 5 to 3.5 miles per gallon, which is unusually good for a boat that can handle rough water. Combined with her stability, it makes commuting on the water practical and economical.

The Helicat can be ordered with 60-90 hp motors of your choice or sold alone for you to select your own motors. A custom Aluminum Trailer with LED lights and disc brakes is available and usually included. She can be towed by a mid-sized car or small SUV, because she will be under 3,400 pounds on the trailer full of fuel and gear, ready to go anywhere.

More at watersportnews.com and at www.helicat.net

For more information, go to: f1h2o.com